Valley of Blood Review
The Survival Apocalypse Series Book 3 – Review of Valley of Blood

The third book in the Survival Apocalypse series is called Valley of Blood. If you like action and adventure you will enjoy this book.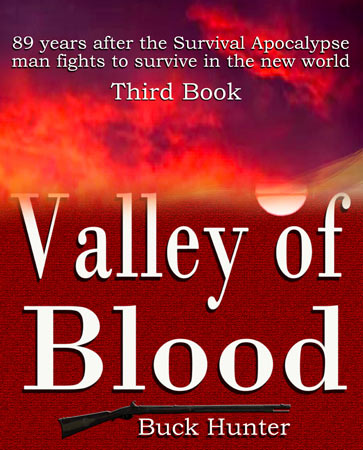 I'm assuming by now that you have read Escape to the Choccolocco Valley and The Choccolocco Valley.
Book 3 of the series is entitled Valley of Blood and takes up where the last one left off so that you won't be left hanging.
As always, each book introduces new and interesting characters. This time around you'll meet Mr. Beckum and Mossy Turtle among others. Pinhoti will also make a cameo.
You'll also be teased with a bit more of the hows and whys of the apocalypse, though I confess the time is not yet right to make a full disclosure. No matter, for by now you are most interested in what's going to happen next in the Choccolocco Valley.
I can tell you this much. Rayburn takes a trip…a really fascinating trip, and the Valley is plunged into yet another war, far more devastating than the last one. They have been very lucky in their history about such things, but now their luck has run out. Of course, this is one reason why the series focuses on the year 89, going into 90, because that's when things really start popping!
Jed is really going to stretch his short little legs in this book, and you'll be more pleased than ever with him. And we'll also meet the Georgias for the first time. You'll get a kick out of their chief, old Mossy Turtle. Also we delve deeply into the new love interests, Meria and Hannah.
I hope that you are finding that the Choccolocco Valley books are written in a pleasing, and more unusual style than anything you have ever read. So much so that you attempt to emulate the local dialect with your friends.
Already, the series is testing the waters about going further afield, as you'll see in Valley of Blood on Amazon. This is just the beginning. Amazing things are coming your way! I'm really hooked on the books and I hope you are too! Please review the books on Amazon!
Be seeing you on my Facebook page or in the newsletter. Your comments always appreciated!
Goto Review of Book 4 THE GEORGIA WAR

–Buck
[mc4wp_form]