The Choccolocco Valley Review
The Survival Apocalypse Series Book 2 – Review of The Choccolocco Valley
The second book in the Survival Apocalypse series is called The Choccolocco Valley. If you like action and adventure you will enjoy this book.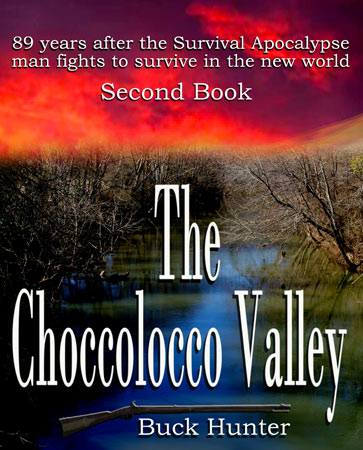 The Choccolocco Valley lies in what used to be the north central part of Alabama. Our story here begins in the year 89. That would be 89 years after the apocalypse when the world as we know it stopped dead in its tracks and everything began to go back to nature.
Because of fortunate circumstances explained in the book The Choccolocco Valley, a small number of folks have a somewhat easier time of it than most others in North America. However, they also have their challenges. Namely, if you eat, you must grow, and if you want something it must be made, for the new times are not unlike the earliest pioneer days of America.
Spoiler Alert. If you have read book one, Escape to the Choccolocco Valley and are planning on continuing with the series, you need to stop right here.
3
2
1
You were warned.
In The Choccolocco Valley, you'll be introduced to a whole new cast of players. Jed, from Book 1 actually makes it to the Valley. That being said, he lands right in the middle of a war. The cause of the war and what happens to young Jed is related in Book 2. We'll also have a hearty dose of just how one goes about fighting a war with what amounts to stone age tools.
Of course, there is much much more going on in The Choccolocco Valley. The book is told as factually as I can possibly make it and it is not only entertaining and thought provoking, but educational as well. If you liked Book 1 enough to at least think about giving a good review, then you'll like Book 2 equally as well. The story continues and just keeps getting better. In The Choccolocco Valley, Jed is either accepted or rejected by the Valley folk. Since there wouldn't be much of a story if they sent him packing we must assume that he has been accepted. We might even learn that Jed is something special. Real special. Telling more would spoil the tale. Just know that things don't necessarily come easy to Jed. He's up for a big challenge for one so young!
I hope that you, like I see the Survival Apocalypse as more than books. I hope you see the characters as friends and come to agree that The Choccolocco Valley is a good way of living in the post apocalyptic world. (That is..if you're one of the good guys!)
Be seeing you on my Facebook page or in the newsletter. Your comments always appreciated!
Click a book for more reviews of the Survival Apocalypse Series or go directly to Amazon to get your copy.
Goto Review of Book 3 VALLEY OF BLOOD

–Buck
[mc4wp_form]