The Georgia War Review
The Survival Apocalypse Series Book 4 – Review of The Georgia War

The fourth book in the Survival Apocalypse series is called The Georgia War. If you like action and adventure you will enjoy this book.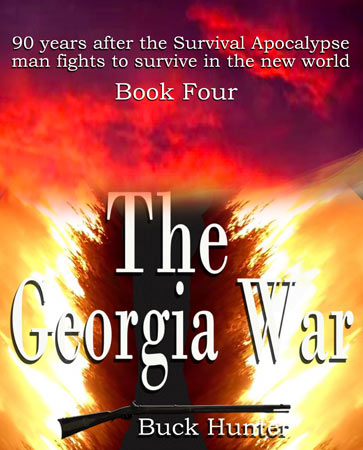 As you might expect, the fourth book in the Survival Apocalypse saga called
The Georgia War takes war in the Choccolocco Valley to a new level.
For the entirety of their history the residents of the Choccolocco Valley have been at peace. A good thing too, for they were woefully unprepared for even the least little battle.
Then, just at the right time there comes a lad by the name of Jedidiah Reuel, a little orphan boy, down on his luck and wounded. Jed will figure most prominently in The Georgia War.
The Georgias have gone on the warpath, Rayburn is still out of town and the Valley turns to 11 year old Jed to save them. Jed, as you have come to learn, is no ordinary little boy. Not even a little! Also by now you know that even though Jed is an adolescent, the Survival Apocalypse is not juvenile fiction. It's a whole new way of reading fiction.
In The Georgia War there will be blood aplenty, reminiscent of the most heroic battles of the pioneering days of America. The Valley folk will either rise to the occasion or be completely erased from the face of the earth.
New characters in The Georgia War to include a ruthless Georgia by the name of Mad Tommy and a heroic Valley woman by the name of Nellie Harjoh. Plus many of your favorites…the ones that have survived so far.
Jed moves to a whole new level in The Georgia War and begins to embrace the tenants of war as told in the Old Testament.
We'll also revisit a couple of characters we met earlier by the name of Nelson Martin and Dommy. They have not been forgotten. Oh no. You'll be seeing more of them in books to come. You can bet on that.
In The Georgia War we wrap up some things, sort of, and set the stage for the next round in Book 5 called The Pig Men. Big changes coming for Book Five.
But first, there is Book 4 and The Georgia War. I hope you enjoy reading it as much as I loved writing it. I swear, I had NO idea how it was going to come out. My job as your writer is simply to report what I see. The characters that I and you have come to love are calling the shots!
You can get The Georgia War on Amazon.
Be seeing you on my Facebook page or in the newsletter. Your comments always appreciated!
–Buck
[mc4wp_form]